Hansel P. will celebrate one year at Fire Systems, Inc. this spring as warehouse technician for the company. His role is critical to the smooth operation of the suppression division.
In this first year with Fire Systems, Hansel has learned a lot about the industry. He hopes to continue his career with the company and gain certifications as he continues moving forward in fire protection.
Managing the warehouse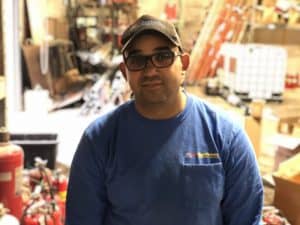 As warehouse technician, Hansel is in pretty much in charge of the day to day workings of the warehouse. This means that in addition to running the warehouse, he also performs fire extinguisher maintenance and recharges.
One of his tasks is receiving and organizing parts. When ordered parts come in, it's his job to mark them, stage them, and organize the parts for the technician to pick up before going out on jobs. Technicians also rely on Hansel to service fire extinguishers they bring in from jobs. Additionally, he goes out on service calls to help other technicians when needed.
Another important aspect of his job is waiting on customers that come by the warehouse. This role requires organization, people skills, and extensive knowledge of fire extinguisher systems. He carries the NAFED certification and will be taking his kitchen systems certification in just a couple of months.
Fire Systems is family
When asked about the best part of working for Fire Systems, Hansel immediately points to the family atmosphere. He notes this environment is also conducive to growth and increased opportunity.
"The family atmosphere is the best part of working for this company. Everyone is really nice, and I have a lot of opportunity to grow within the company," said Hansel.
Hansel describes Fire Systems, Inc. as a giant clock in which all of the small gears work together. This metaphor embodies the values of the company, and in Hansel's eyes, creates a respectful atmosphere in a well-established company. Respected employees work harder because they are intrinsically motivated to do their best. The management team at Fire Systems understands this and therefore makes it their goal to trust all employees to work to their top potential every day. The result is a highly competent and highly driven group of employees working toward a common goal.
"All of the employees at Fire Systems are very professional. Everyone does their job with pride, which I think sets Fire Systems apart from other companies," explains Hansel.
Forward thinking
Hansel hopes to move into a management position or "in some role where I can push myself and my abilities" in the next five to ten years, he explains.
As far as career goals, he hopes to "learn all aspects of the company; learn about all of the divisions." Hansel also seeks to achieve as many certifications as possible that will expand his knowledge in the fire protection industry; specifically, the fire suppression field.
Home & hobbies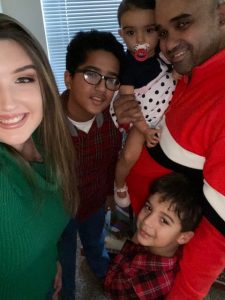 When he's not working, Hansel loves to watch wrestling, work out, and just talk to people. Most of his time is spent with his fiancé and three kids. Some of their favorite things to do are watch movies and eat.
Hansel was born in New York but grew up in the Dominican Republic with his grandmother. He's engaged to his fiancé, Brittany, and has three kids ranging in range from one to twelve. He is fluent in both Spanish and English and enjoys dancing. His dad, who passed away three years ago, always told him "when doing something, do it 100 percent. Anything less than that is unacceptable." This advice he carries with him in everything that he does in life.
Fire Systems, Inc.
Fire Systems, Inc. has been family-owned and family-operated since 1986. They are one of the first fire protection companies in the state of Georgia to offer all fire protection services under one company. Fire Systems offers fire alarm, sprinkler, suppression, vehicle suppression, and more. Working with Fire Systems, a company with over 30 years in business, means you are backed by a powerful and experienced team of professionals dedicated to the industry. Find out more about us by visiting our website or call us today at 770-333-7979 for more information.