The sales team of Fire Systems, Inc. is the face of the company. They are the liaison between customer and company. It takes integrity, drive, and a deep knowledge and understanding of customer needs to be a successful salesman for a company like Fire Systems, Inc. Rick T. embodies those characteristics and more. He goes above and beyond to provide the best fire protection services possible for all customers.
A day in the life
Rick's current job title for Fire Systems, Inc. is Sales Director. He acknowledges the "high risk, high reward" aspect of the job and finds great satisfaction in the challenge. 
"The job of leading the sales team has enormous responsibilities associated with it. Sales are the life of most companies," explains Rick. "Your job is never finished; you start new every day and every year. Your performance is measured and scrutinized more than any other position in the company."
The job of Fire Systems Sales Director often involves communicating with a variety of people every day. From co-workers to current and potential customers, Rick's job looks a little different depending on the day.
Rick explains, "My day begins with reviewing emails and planning my day. That changes frequently from the previous day at the direction of everyone to whom I report including management or outside projects. My responsibility is to assist or coach the sales team and sell, sell, sell! For newer members that includes a review of their quotes, pricing, strategizing a particular prospect or going with them when they believe the opportunity needs my assistance. I also have a large group of customers to whom l directly report, and that requires weekly interaction on some level. My position is challenging and involves being able to change direction on the fly."
His day ends with returning phone calls and emails just as it began. By the end of any given day, Rick estimates that he's driven 100 plus miles to see customers, answered 40 plus emails, and responded to 20 phone calls. This doesn't include site visits and sales calls offering a solution for a specific fire protection need where he then works on proposals.
As Sales Director, Rick's job is also that of mentor, a role he appreciates and finds most rewarding. "I truly enjoy mentoring the newer members and supporting the senior account managers when they need my assistance. They are all extremely talented and professional in their approach."
A lifetime of experience
Rick's career in fire protection stated in firefighting, but he's been selling for most of his life with over 20 years' experience in sales. Rick's experience runs form small start-up companies to large corporations. Part of the joy he finds in the profession includes sharing his experiences with younger and newer members of the sales team as a way of sort of "passing the torch." Though he admits he feels great and sees no end to his role at Fire Systems in the near future.
Part of his accomplishments over his long-spanning career in sales include the growth of Fire Systems. "Fire Systems is a good place to work, grow, and prosper. I've watched everyone grow and enjoy an improved lifestyle that wouldn't be possible without the company we have grown," explains Rick.
Most successful sales professionals earn over half their income from commission which in large part is paid based on the profitability of whatever you sold. You have to be driven, self-motivated, and knowledgeable in fire protection and all that's involved with the industry.
Loyalty sells
Sales isn't just above knowledge of the product or services you're selling. It's about loyalty and trust; characteristics that you earn over time.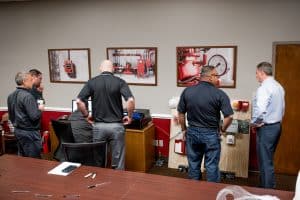 "I truly love selling and interacting with my customers," says Rick. "Some I've had for over 20 years. They are friends. I've met a lot of great people in this business and many of them are close friends."
Rick also notes the heavy sense of responsibility of being in sales in the fire protection industry. You're not just selling or moving a document to a customer for approval. It's far more important than that. Fire Systems sales professions offer solutions to protect lives and property.
"That's a huge responsibility and requires a lot of knowledge in codes, standards, equipment limitations and what type of equipment and how to apply it to any given Fire or Life Safety need. That's an awesome responsibility that can never be forgotten," explains Rick.
A Life Safety Consultant, which is part of the job description as sales professionals, requires continuous training, learning and experience. It goes beyond sales and profits. The number one goal is to partner with customers in their life safety, fire protection needs. When you do that and build a trustworthy relationship with them, everything else will take care of itself in terms of sales and being a loyal customer for many years. Being persistent, knowledgeable, professional and perfecting your approach is only part of what is required.
Family man
"The road to where l am now from where I've come is long with twists and turns, ups and downs," explains Rick. "Like most people life has made me what I am now.  My faith is most important to me. I'm very far from perfect but headed in the right direction. I'm sincere and humble. You say how can you be in sales and be humble? Competitiveness. I'm loyal to a fault and do care what people think of me."
Rick has two boys and one girl, ages 6,12, and 13. Providing for them, college, and a mortgage are good motivators for Rick. He also admittedly likes buying tools and mentions he has a backup for everything, and it's commercial grade.
When not working, Rick's hobbies are enjoying time with family at the lake, beach, or at home playing in the yard. A perfect evening for Rick involves cooking out and watching a movie with his kids. "I do have a need for speed that l get from riding my trials motorcycle. Step hill climbing on a two stroke is a thrill! I'm not very good at golf," Rick jokes.
Stan gave Rick an opportunity 29 years ago and he strives to do his best every day to repay that. "Fire Systems has been good to me. I'm blessed beyond what l could have imagined," explains Rick.
The employees Rick manages and the success they have made is one of his greatest accomplishment to Fire Systems. Being mentioned as a top salesman along with the others and knowing the contribution he's made are recognized and appreciated is satisfying. Rick is hopeful that he'll retire at Fire Systems, Inc. and looks forward to the years to come.