FIRE PROTECTION:
FIRE SYSTEMS INSPECTIONS, REPAIR, MONITORING
Fire safety protocol is essential to maintaining a safe and comfortable workplace. All fire protection systems are required to be inspected at least on an annual basis according NFPA standards and local fire codes. Many systems even require monthly inspections and maintenance to ensure proper functionality and make any repairs needed. Whether you are a small church or a 500,000 square foot manufacturing facility, your systems must be inspected regularly. We make it easy for you to stay in compliance.
Fire systems inspectors are fully trained and certified

Fire systems inspections are performed in-house and do not involve subcontracting.

Our technicians are able to ensure all fire hazard types are adequately protected, and will provide suggestions if additional protection is needed.
Comprehensive Fire Protection Services
Exit
Central Station Monitoring
Fire Alarm Systems
Kitchen Systems
Fire Extinguishers & Emergency Lights
Special Hazard Systems
Fire Sprinkler Systems
What do our Fire Inspections ensure?
If there is a fire after hours, your system will immediately eliminate the threat.

Fully functioning systems will be "green-tagged" or otherwise marked as code-compliant to keep the local Fire Marshal happy and to keep your employees safe.

You will be informed of any deficiencies found and we will ensure they are resolved as soon as possible.
What do our Fire Inspections include?
A visual inspection that confirms there have been no changes and that no obvious deficiencies are present.

Functional testing that verifies your systems will properly function or discharge in case of emergency.

Inspection Reports that are easily digestible for your records.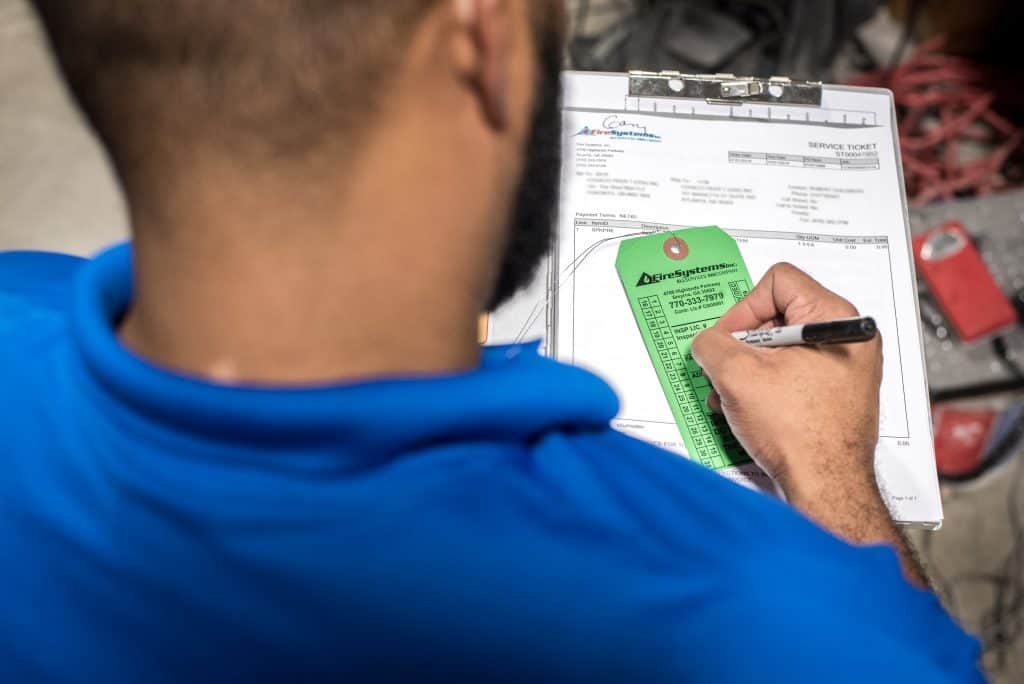 We can handle all of your fire systems inspections at one time.  
Conventional & Addressable Fire Alarm Panels
Wet & Dry Pipe Sprinkler Systems
ABC, K Class, Halotron, CO2, Purple K Fire Extinguishers
Fire Doors and Elevator Recall
Exit & Emergency Lighting
Backflows & Fire Hydrants
Clean Agent & Special Hazard Systems
Mobile Fire Suppression for Heavy Equipment Vehicles
Visual and Functional Testing
Room Integrity Testing/Door Fan Testing
Diesel and Electric Fire Pumps