Fire Systems, Inc. promises to be your one company for all services. From fire alarm to fire suppression, Fire Systems truly does it all.
This promise is carried out daily through the company's cross-trained technicians who work tirelessly to get the job done right. All Fire Systems technicians work together to ensure a seamless experience for customers. Repairs are caught sooner, and inspections are more thorough. Customers also enjoy time and money saving benefits when working with an "all services" company like Fire Systems.
Working as a technician for Fire Systems takes more than expert knowledge and training in the fire protection industry, it also takes the ability to problem solve and work as a team to guarantee the best possible service to the customers of Fire Systems.
Customers first
Chris D. has been a fire alarm technician for Fire Systems for three years. As a fire alarm technician, Chris's day to day duties vary. He may perform annual inspections on fire alarm systems, or semi-annual inspections on clean agent systems. He may work on troubleshooting a customer's fire alarm system or carrying out necessary repairs.
The ability of techs like Chris to multitask in such ways to accommodate customers' individual needs are one of the keys to the great customer service Fire Systems is known for.
"We are probably one of the only companies that make a valiant effort to give our customer same day service," explains Chris.
Customers of Fire Systems not only receive some of the best fire protection techs in the area, they also receive individualized attention that can only be provided by a family-owned and operated company like Fire Systems. Or as Chris says, a "small company with a big business mindset."
"While I've been at Fire Systems for almost three years, I did leave the company for a short while to try something new at another fire protection company," explains Chris. "But I really felt like Fire Systems was home for me. Such a tight knit group. When Tim (Fire Alarm Manager) reached out to me about coming back, it was a no brainer. I knew Fire Systems is where I wanted to be for the long haul. I'm so comfortable here. Everyone makes you feel like family."
Quality matters
Fire Systems is made up of over 50 employees working toward a single goal: to be the only fire protection company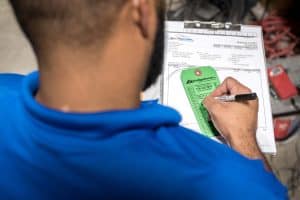 customers will ever need. Skill, experience, dedication, and perseverance are required to achieve this goal. It truly takes a team.
"The quality of technicians is key, as is the leadership of our company, from ownership to managers," says Chris.
Fire Systems' management team ensures that techs are highly qualified and well-trained, but they also make sure techs are challenged in the field, something Chris enjoys as an employee of the company.
"I like that at Fire Systems I'm not isolated to one thing like at other companies. I'm being introduced to new things in my field on a regular basis. I never feel stagnant in my position, and I'm constantly evolving as a tech," explains Chris.
Natural motivation
Many employees cite the family-like atmosphere as one of the most positive aspects of working for Fire Systems, and there's good reason.
Employees like Chris not only feel appreciated, they also feel motivated in the company culture that Fire Systems creates. This motivation is contagious among a smaller company and the result is a highly motivated group of employees who want to do their best because they care about their work and how they represent the company.
"I feel like I am the best at what I do because of my drive and ambition," explains Chris. "I try to complete my jobs as efficiently as possible and give the customer the information they need to ensure their confidence in me as a technician and in Fire Systems as a company."
Focus on education  
Fire Systems invests in its employees; they are one of the company's greatest asset. The company lets employees do
what they do best and supports them through their trainings to become the highest qualified techs in their fields.
In fact, Forbes notes that investing in employees through trainings "fosters knowledge, which fosters self-confidence, which fosters leadership, which fosters employee loyalty, which fosters customer loyalty…"
The family environment, and "genuinely good people" of Fire Systems have left a mark on Chris, and many other employees who call Fire Systems their employer. "I can honestly say I have learned so much coming to Fire Systems. It has made me a complete technician," says Chris.
Going forward, Chris hopes to continue educating himself on every aspect of fire protection.
Outside of his time at Fire Systems, Chris enjoys attending sporting events and traveling. He's also quite the Giant Jenga player.