Your building's fire protection system must be inspected by a fire protection professional on a regular basis. Frequency of inspection varies based on the system (i.e. a fire sprinkler system vs. a fire alarm system). The standards of inspection and maintenance, and frequency of inspections, are set by local and national fire codes like the National Protection Fire Association (NFPA).
Upon inspection of a building's fire protection systems, the fire protection professional administering the inspection should generate an inspection report. This inspection report is like a clean bill of health for a building's fire protection system. It's also a requirement for Fire Marshals and most insurance companies. But how important is the professionalism of this report and how do you make sure this report gets in the hands of everyone who requires it?
What information should be on an inspection report?
 When a fire protection professional comes to your facility to conduct an inspection, there are a list of criteria or standards used to assess the functionality and overall operations of that particular system. These standards are generated from NFPA standards and codes. There may be some variation based on local jurisdiction requirements.
The information on a professional inspection report should include a complete description of all standards to be met per code as well as a detailed review of the "health" of your system. A comprehensive report may include notes from the technician, images of deficiencies, and information on the history of previous inspections.
Basic components of a professional inspection report should include:
Name of inspector
Inspection date
Location of inspection with customer contact info
Individual NFPA code references
Inventory of all devices, detectors, etc. along with previous inspection dates and status
Specific standards checklist for that particular system
These criteria vary by system type and are set by the NFPA. For example, NFPA 25, the Standard for the Inspection, Testing, and Maintenance of Water-Based Fire Protection Systems, dictates the requirements for the inspection of fire sprinkler systems while NFPA 2001, the Standard on Clean Agent Fire Extinguishing Systems, dictates the requirements for total flooding and local application clean agent systems.
Some specific examples of a professional inspection report include:
Semi-annual clean agent fire extinguisher report
Annual fire extinguisher inspection report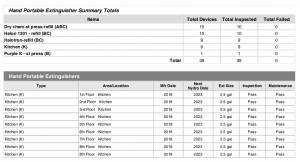 Annual fire alarm system inspection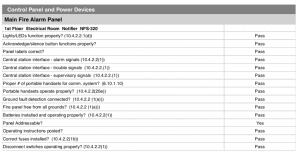 Annual fire sprinkler system inspection  
What to look for in a fire protection company's inspection reporting system
 A professional inspection report should be aligned with NFPA standards and local fire codes. It should be easy to decipher and conclusive in all requirements for each system type.
Some other things to look for in a professional report include turnover time, delivery, and formatting.
Many fire protection companies take seven or more business days to produce a complete inspection report to the customer. Fire Systems, Inc. is one of the few fire protection companies that guarantees an inspection report to the client within 24 to 72 hours depending on the size of the inspection. Fire Systems also offers its customers a "rush" option to guarantee delivery of an inspection report in the same day.
A paper inspection report is a hassle to many business owners. It also looks very unprofessional and can be difficult to read. Additionally, you are left in charge of scanning in the document and uploading the report or sending it to the appropriate parties (i.e. your local Fire Marshal). Fire Systems takes care of all of this processing for you by uploaingd all reports to online portals for every municipality that requires it. And once the inspection is done, the customer does not have to do a thing. The inspection report not only looks professional as a computer-generated report with all required information, it also arrives on time and where it's needed.
Inspection reports also let you know of any necessary repairs. This is a critical aspect of a professional report. A professional inspection report should not only note those repairs in detail, it should also include pictures of the deficiencies. Upon receiving your report, the fire protection company should be able to explain the issue and how to resolve the concern. The company should then provide you with a clean inspection report once deficiencies are repaired and taken care of. This is very important as it ensures your systems have been serviced and repaired as needed.
What happens if I miss my required inspections?
Missing required inspection of your fire protection systems can lead to devastating consequences.
Inspection reports are required by insurance companies. If you don't have an up to date report and a faulty system is the result of a fire outbreak, your claim will likely be denied. Reports are also required by your local Fire Marshal. Your Fire Marshal's office can shut down your business and/or give citations if your found to be delinquent on required inspections of your fire protection systems. Worse, if a fire breaks out in your building and a component of your fire protection system is inoperable due to lack of maintenance, injury or even loss of life can occur.
It's the responsibility of the building or business owner to maintain regular inspection of all fire protection systems. A professional fire protection company can set up a schedule based on your facility's individual needs, so you'll never miss an inspection.
Call Fire Systems, Inc. today at 770-333-7979 if you're in need of a fire protection company to help you stay current on regular inspections and generate professional inspection reports. We have been serving the Atlanta area for over three decades. We do it all; from fire sprinkler to fire alarm systems, we are your "all services" company when it comes to fire protection. It is our goal to keep you compliant by offering the most advanced and professional fire protection services in the industry. Visit our website for more information on installation, inspection, and repair of fire protection systems.