Fire Systems, Inc. has been a leader in the fire alarm sector for decades. Working with some of the top companies in their industry, Fire Systems has gained a reputation for expertise and skill in fire alarm installation, inspection, and repair.
Just this past spring of 2020, Fire Systems was awarded a job installing a Notifier 2-640 panel with voice evacuation at a large elementary school, Stonewall Tell, located in South Fulton county. The client was Centennial Contractors, a new client for Fire Systems.
Demo & Installation
Demo of the existing fire alarm system was completed after the new installation was complete.
"Our installers coordinated the installation and testing with other trades whose systems interfaced with the fire alarm system," explains James E., Fire Alarm Sales Representative for Fire Systems, Inc.
Fire Systems techs installed all new control panels and devices. All of the system wiring was replaced, and techs also removed the existing Firelite system that was undersized for the school's needs.
The system upgrade was part of the budget for the remodel of the elementary school.
Benefits of a Notifier System
Fire Systems installed a Notifier 2-640 panel with voice evacuation system at Stonewall Tell Elementary School. The NFS2-620 intelligent fire alarm control panel is part of Notifer's UL listed ONYX Series, designed specifically for mid-size applications, and easily expanded via Notifier's intelligent fire alarm network.
Other features and benefits of this system that help to protect a facility like this school include:
ONYX Intelligent Sensing – nine levels of sensitivity, drive compensation and maintenance alert, and auto detector test
Fully field programmable with 80-character display
Optional Integrated Digital Voice Command with eight channels of standard quality audio or one channel of high-quality audio and firefighter telephone on a single cable
The school or contractor will typically put out the specs for the fire alarm system needed for the building (i.e. the manufacturer, features, etc.). The fire protection company then meets these specs and helps in selecting the best system type based on the specs. In this situation, this type of fire alarm system is a requirement for the facility type.
Fire Systems, a highly recognized Notifier distributor, was able to install this system type and can help the school maintain their system through regular inspections.
Notifier is one of the most recognized brands in fire protection, with one of the largest distribution networks.
Why Fire Systems, Inc.?
Centennial Contractors hired Fire Systems, Inc. to complete this major renovation project for several reasons, namely the company's reputation and price.
"We bid this project through a bid lead company and had the most competitive pricing," says James.
Being awarded this project and completing it in such an efficient and thorough way speaks to the level of expertise of Fire Systems, Inc.
"Completing this scope of work shows we can handle larger projects and be competitive on pricing," says James.
A team of professionals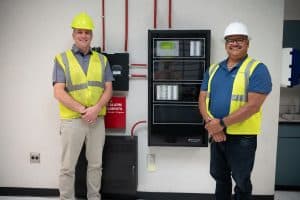 This project was truly one of teamwork, led by top professionals in the fire protection industry.
On this project, the following Fire Systems' employees played an integral role:
William V. acted as project manager.

As such, he coordinated the complete installation of with the installers, contractors, and the City of South Fulton Fire Marshal.

Jimmy E. acted as account manager.

Jimmy prepared pricing and component requirements.

Carol D. acted as designer.

In this role, she designed and prepared the drawings and completed the submittal and permitting process.

Malynda Z. acted as purchasing manager.

Malynda ordered all of the necessary material and verififed the system components and quantities were correct. Malynda also price checked all materials to get the best price.
In addition to the team of professionals at Fire Systems, Inc., Zerp Enterprises also worked with Fire Systems as the installing contractor. Zerp Enterprises provided the labor to get all of the equipment installed on time and coordinate with other trades during install and testing.
 "Centennial Contractors specializes in educational campuses and were a pleasure to work with. I hope we get more opportunities for additional work," says James.