Careers in the fire protection industry can be some of the most rewarding and gratifying professions. There are several certifications required to work in the fire protection industry. These certifications vary by state and even local jurisdiction. The type of certification also varies by specialty. For example, some specialties within the industry include fire extinguisher/suppression, fire sprinkler, fire alarm, and vehicle systems.
The state of Georgia requires that all fire protection professionals hold a NICET certification to work on fire sprinkler systems and fire alarm systems. A state test, or the NAFED, is required for anyone who works with fire extinguishers/suppression. NICET certification is not required to work with vehicle suppression systems. However; manufacturer trainings are required.
NICET certification
The National Institute for Certification in Engineering Technologies (NICET) is a national institute that offers certification programs in engineering technologies. Each of NICET's nationally recognized certification programs are designed by industry experts and practitioners to ensure a qualified workforce. NICET's fire protection certifications include fire alarm systems, inspection and testing of fire alarm systems, inspection and testing of water-based systems, special-hazards systems, and water-based systems layout.
All individuals seeking a career in the fire protection industry in the state of Georgia must obtain NICET certification. The level of certification notes the ability level of that individual within a given field. For example, fire alarm system inspectors must hold at least a NICET Level 3. To be able to work with clean agent systems, a NICET Level 3 is also required. Most fire protection companies will require employees to hold a NICET Level 1 as the bare minimum.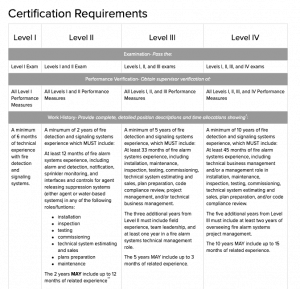 It's also a requirement that at least one person at a fire protection company hold a Level 4 NICET Certificate of Competency in order for that company to even hire employees to work on fire sprinkler systems.
For fire alarm systems, one person at the company must hold a low voltage license in order to work on fire alarm systems.
NAFED certification
The National Association of Fire Equipment Distributors (NAFED) is a trade association serving companies that sell, distribute, and service fire equipment. In 2003, NAFED introduced the industry's premier certification programs for technicians servicing portable fire extinguishers, pre-engineered kitchen extinguishing systems, and industrial pre-engineered systems. In 2009, the portable and pre-engineered exams were merged into a joint program with the ICC (International Code Council). The ICC now administers these exams. NAFED has also developed a program for certifying technicians in engineered systems.
The state of Georgia requires that any individual working in the field of fire suppression hold NAFED certification. Technicians can be certified to service: portable fire extinguishers, pre-engineered kitchen fire extinguishing systems, pre-engineered industrial fire extinguishing systems, and engineered fire suppression systems.
Additional training
In addition to national certifications, individuals looking to work in the fire protection industry can also receive specialty trainings from organizations like the National Fire Protection Agency (NFPA). This organization offers topical trainings for all industries dedicated to public safety. Most trainings within the fire protection industry focus on code-specific trainings and workshops.
A few of NFPA's Fire Protection Systems Trainings include:
Automatic Sprinkler Systems Plan Review training and workshop
NFPA 13 Storage Protection Requirements and Assessment online series
NFPA 72 National Fire Alarm and Signaling Code training
ITM for Fire and Life Safety online training
NFPA 99 Health Care Facilities Code online series
Certified Fire Plan Examiner (CFPE) Certification
While these trainings aren't required to work as a fire protection professional in the state of Georgia, many fire protection companies encourage employees to take these trainings. Some companies, like Fire Systems, Inc., actually pay for certain employee certifications.
Working in the industry
As with many other professional certifications, fire protection professionals are required to maintain certifications through continuing education opportunities. This is true particularly for individuals who've obtained their NICET Level 2, 3, or 4 certifications.
Continuing Education Units, or CEUs, can be earned in many ways. A few of these ways include giving classes, attending manufacturer trainings, and simply maintaining a career working in the industry.
Fire Systems, Inc.
Fire Systems, Inc. is a leader in the fire protection industry. With over three decades in business, the family of owners and management team of Fire Systems bring a level of unmatched expertise in the Atlanta area. Our team of technicians are highly trained and certified. Fire Systems encourages technicians to pursue additional certifications and attend manufacturer trainings to be able to offer their customers the absolute best service.
Call Fire Systems, Inc. today at 770-333-7979 or visit our website for more information.