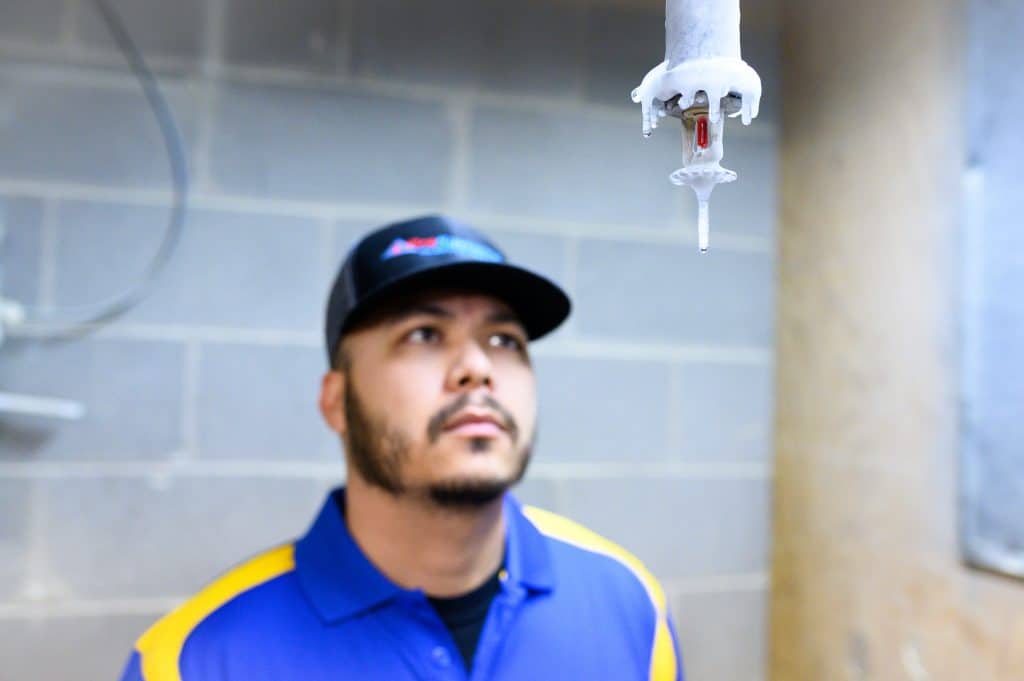 Is your sprinkler system ready for this winter? As temperatures drop, the risk of weather-related fires increase. It's imperative that your building's sprinkler system is in working order to prevent a serious fire emergency. Consider these tips for preparing your fire sprinkler system for the winter months ahead.
Use a sprinkler system checklist
In the winter, the most common sprinkler problems occur when accumulated water freezes in dry pipe sprinkler systems as well as inadequately heated wet pipes.
As a business owner/responsible party, it's your job to ensure an existing sprinkler system maintenance program is in order. Adhering to a winter sprinkler system checklist is a helpful way to prevent some common weather-related issues.
Wet Pipe Sprinkler Checklist
 Ensure building shell is in good condition; close unnecessary openings

 Maintain building heat at a minimum of 40℉ in all normally heated areas/areas with wet pipe sprinkler system

 Check coldest points of building to ensure temp is at least 40℉ (i.e. eaves over shipping doors, spaces without direct heat)

 Consider low temperature alarms in problematic areas

 Identify vulnerable areas (i.e. crawl spaces, attics, above suspended ceilings where water piping pass through) and provide a way for heat to reach those areas

 Place thermostats and/or low temp alarms at strategic locations to monitor building temp

 Check insulation in attic areas/other areas near wet pipe sprinkler pipes
Dry Pipe Sprinkler Checklist
 Maintain heat at a minimum of 40℉ in dry pipe valve rooms, fire pump rooms, and all areas protected by wet pipe sprinkler systems

 Check that heaters are thermostatically controlled; do not use portable heaters

 Drain all low point drains weekly during freezing weather

 Have additional drains installed if necessary

 Repair air leaks to prevent system from tripping if compressor power is lost

 Air supplied to the compressor should come from a dry, room-temp source; if not possible, consider installing an air dryer/using nitrogen
Don't miss annual inspections
Prevention is the best way to avoid costly issues with your fire sprinkler system at any time of the year, but especially during the winter when risk of fire for many businesses peaks.
Keeping up with annual inspections of your sprinkler system will ensure full functionality and code compliance while also lessening the chance of unnecessary repairs related to winter weather. Annual inspections involve inspecting and testing fire sprinkler systems. These inspections are an essential part of a sprinkler system's maintenance routine and should not be missed.
Fire Systems tracks your inspections for you so that you never miss one of these critical visits. We keep up with annual inspections and call you when it's time to schedule.
Work with a qualified fire protection company
To safeguard the longevity of your fire sprinkler system year-round, it's important that you choose to work with a highly-qualified fire protection company. This means choosing a company that specializes in fire sprinkler systems.
Fire Systems, Inc. technicians are trained and certified to perform any service needed on various components of your fire sprinkler system to ensure proper functionality. This includes:
Riser (wet system or dry system)
Fire hydrants
Backflow preventers
Fire pumps
Standpipes & floor control valves
Other systems like foam (AFFF), deluge, and pre-action systems
Want to learn about our sprinkler system inspections? Call us today at 770-333-7979 or visit our website.