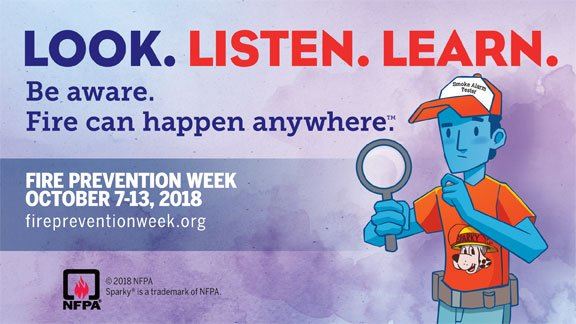 Fire Prevention Week is an annual week-long campaign to educate the public on the importance of fire protection while bringing awareness to the risk of death caused by fire. The event is sponsored by the National Fire Protection Association (NFPA).
President Woodrow Wilson first issued National Fire Prevention Day in 1920 in commemoration of the Great Chicago Fire of 1871 that killed 250 people and burned through 17,400 buildings. It wasn't until 1925 that the NFPA began the week-long campaign focused on public fire safety education.
This year's campaign, celebrated October 7-13, focused on "three basic but essential steps to take to reduce the likelihood of having a fire." The theme, "Look. Listen. Learn. Be aware-fire can happen anywhere," reminds the public to look for possible fire hazards and eliminate them, listen for smoke alarms, and learn ways to exit a building in the event of a fire.
Additionally, the focus of this year's theme was to make the public aware that fires can happen anywhere, not just at home.
Non-residential Building Fire Statistics
Since the majority of fires in the U.S. occur in the home, it may be tempting to forget that fire can happen anywhere. Fire safety can and should be practiced outside of the home.
From 2007-2016, NFPA estimates 96,800 non-residential building fires in the U.S. In this ten-year span, these fires caused 145 deaths, 1, 550 injuries, and $2,007,300,000 dollars lost. The leading causes of these non-residential building fires include cooking equipment, carelessness, and electrical malfunctions.
Structure Fires by Occupancy
Recent data reported for overall structure fires by occupancy lists residential fires accounting for almost 80 percent of all fires reported, with other non-residential structures like outside/special property (i.e. landfills, construction sites, bridges, tunnels), storage properties (i.e. outside storage, warehouses, vehicle storage), and mercantile/office spaces (i.e. textile/sales shops, service stations, personal services) following just behind.
What's impactful for business owners to note is the direct property damages in millions. Topping the list of direct property damage is mercantile/office spaces with $716 million in loss and storage properties with a reported $590 million in loss.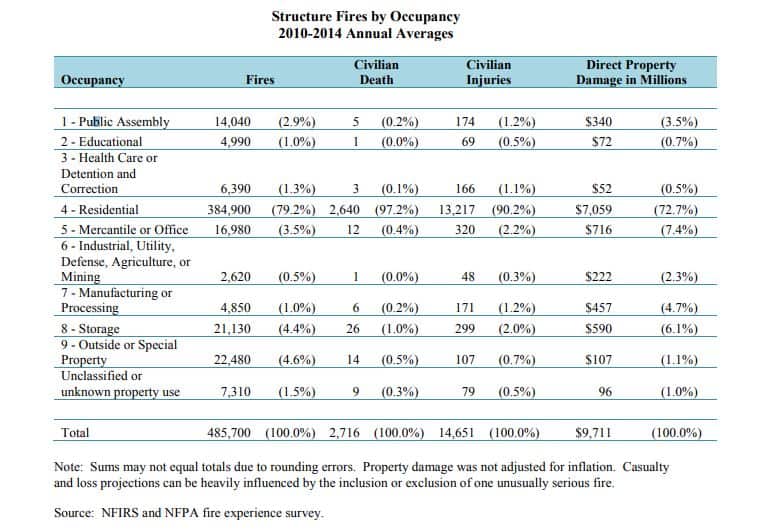 Non-residential Fire Prevention
Some type of fire sprinkler system was present in an estimated 49,840 (10 percent) reported structure fires from 2010-2014.
In regards to sprinkler operation and effectiveness, sprinklers operated in 92 percent of these fires large enough to activate the sprinkler system. Only 8 percent failed to operate and 4 percent operated ineffectively. The top reasons for failure or ineffectiveness was system shut-off.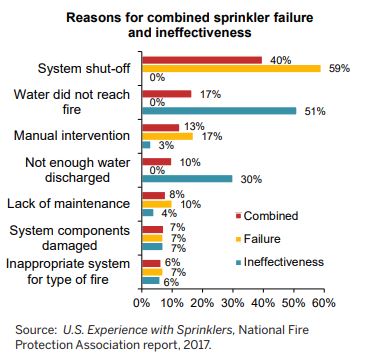 Most recent data on non-water based automatic extinguishing systems reports use of these systems in 2 percent of U.S. reported structure fires.
Dry (or possibly wet) chemical systems in the area of fire operated in 81 percent of reported structure fires large enough to activate operational equipment, and therefore failed to operate in 19 percent of these fires (fire incident reports refers only to dry chemical systems, not wet chemical systems, but wet chemical systems are the only systems now listed for use in commercial kitchens).
If limiting analysis to fires only involving cooking ranges, nearly half of dry/wet chemical system failures were due to lack of maintenance. Other reasons cited for failure were as follows:
• 27 percent were because manual intervention defeated the equipment
• 11 percent were because a component was damaged
• 10 percent were because the system was shut off
• 8 percent were because the system was inappropriate for the type of fire
Teaching Fire Safety at the Workplace
National Fire Prevention Week brings awareness of fire safety to the public, but also acts a reminder particularly for employers and business owners that fires can happen at any time. Employers should routinely hold safety meetings, fire-prevention activities, and trainings that educate and advocate for general fire safety and awareness.
Employers should also be aware of fire risks in their own building and know how to act if needed. For example, teaching employees how to use a fire extinguisher can be a lifesaving lesson.
Digital training devices like the BullEx BullsEye laser-driven fire extinguisher training system allows employers to conduct fire extinguisher training in practically any indoor setting. The system features LED-driven digital flames and a laser training extinguisher for realistic simulation.
Fire Systems, Inc. can provide hands-on training at your facility using the latest digital training aids.