The National Fire Protection Association (NFPA) sets the code requirements for how many fire extinguishers a building will need. It's not a "one size fits all" approach. There are multiple factors like the size and layout of your building and hazards present in your building. All buildings open to the public are required to have fire extinguishers present.
Accessibility & visibility
 The NFPA notes that there are "two key factors for locating fire extinguishers." These factors are accessibility and visibility. This means that extinguishers should be placed where they are readily accessible along normal paths of travel and free of visual obstructions.
Location & placement
 Depending on the size of your fire extinguishers, there are regulations on how high the extinguisher should be mounted. For example, consider this chart that outlines the criteria for fire extinguisher placement:
Spacing
 Fire extinguisher spacing is addressed in NFPA 10 (Standard for portable fire extinguishers) section 6.2.1.1.
The standard rule of thumb is a travel distance of no more than 75 feet for class "A" hazards and fifty feet travel distance for class "B" hazards. These are general guidelines and can differ based on many factors.
Building size & layout
Because NFPA requires no more than 75 feet between fire extinguishers, the square footage of a building as well as its layout are major determining factors when considering the number of fire extinguishers necessary.
Factors such as number of floors and stairwells are factored in as well.
Extinguisher size
Fire extinguishers come in varying sizes, indicating the amount of fire extinguishing agent it holds. While fire extinguishers can go up 350 pounds in size, the most common sizing options for portable fire extinguishers are 5-pound, 10-pound, or 20-pound.
The size is an important factor in determining if you have enough fire extinguishers because you need to be sure you have sufficient fire extinguishing agent to address a fire emergency within a specified space. For example, a 5-pound fire extinguisher would not be appropriate for a large commercial space. So, it's not just how many extinguishers you need, but also the right size.
The physical ability of employees to use a fire extinguisher should also be considered. For this reason, many building owners choose two 5-pound extinguishers over one 10-pound.
Classification & hazard type
The NFPA categorizes fires by class. These classes are laid out in NFPA 10, the standard for portable fire extinguishers. It's important that, in addition to the appropriate amount of fire extinguishers, that you also have the correct type of fire extinguishers based on the combustible material within a building.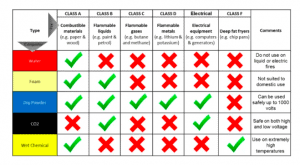 Additionally, every public building is assigned a "hazard level" based on the type of flammable materials inside the building. These classifications are light/low hazard, ordinary/moderate hazard, and extra/high hazard.
Light hazard areas

Class A or B fires
Low rate of fire
e. an office building

Moderate hazard areas

Class A or B fires
Moderate probably of fire
e. parking garage

High hazard areas

Class A or B fires
High level of fires, rapid rate of heat radiation and fire spread
e. aircraft
Getting expert help 
A licensed fire protection company can help you determine the amount, type, and size of fire extinguishers necessary for your building. They can also help you in determining location and placement. Most facilities require additional fire protection measures like a fire sprinkler system or automatic suppression system in addition to portable fire extinguishers. A knowledgeable fire protection company should be able to create a fire protection plan for your facility that is in alignment with local fire codes and requirements.
Fire Systems, Inc. has been helping local Atlanta businesses maintain compliancy for over 30 years. We are an established and well-respected fire protection company with strong relationships to local fire officials. We are well-versed in local fire codes and are always up to date on the latest changes and requirements. Our goal is to be the only fire protection company that you'll ever need. That's why we do it all. From portables to sprinkler systems, we can equip your facility with the most effective fire protection systems and also maintain and monitor that system.
Visit our website for information and give us a call today at 770-333-7979 to find out how we can help.