Notifier introduced the 10" touch screen Network Control Display (NCD), or better referred to as an Annunciator, in April of 2019.
Notifier is known as a leader in the fire protection industry. They are pioneers at the forefront of the everchanging technologies of fire alarm systems. This new NCD takes fire alarm panels to a new level of fire protection.
Critical role of fire alarm panels
Fire alarm panels act as the brains of a fire alarm system. All detectors report back to the panel. The job of the fire alarm panel is to alert building occupants of a potential fire. First responders use the information on the fire alarm panel to pinpoint the location of a fire incident. Fire alarm technicians depend on the accuracy of the fire alar
m panel for annual inspections. Fire alarm panels are a centrally critical component of the fire alarm system.
The new NCD by Notifier provides an enhanced 10 inch high definition color touchscreen and user-friendly functionality for system wide network management. The functionality is like any touch screen device.
Features include:
10 inch 1024×600 high definition color touchscreen
Full command and control over entire network
Color coded Icon based event notification
Customizable instructional text
Can be used as FACP primary display
Supports Digital Voice Command (DVC) for network audio applications
Inherently regenerative system. Each node acts as a repeater to reshape and regenerate data signals
Supports standard and high speeds network systems
The NCD panel is also compatible with ONYX Series nodes as well as the NCA-2.
Saves lives & protects property
Timing is everything in a fire emergency. From occupants of the building to first responders, the emergency response chain is a critically important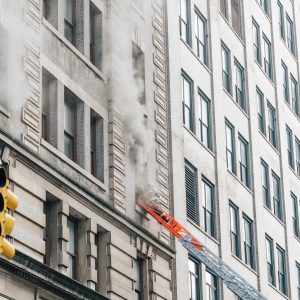 process. Advances in the technology of fire alarm systems make buildings safer for everyone.
As noted by the Society of Fire Protection Engineers (SFPE) , the technological advances in fire alarm panels will permit touch-screen inquiries to inform a fire commander of conditions at selected locations in the building. Digital network technology would permit the interface to be located at several points within a building or complex or at a distant location.
The SFPE also states perhaps one of the most critical benefits to the technological advances made in fire alarm panels: "These developments provide for improved notification to the first responders upon arrival at the building and open the opportunity for transmission of standardized information to responders en route to the building."
User friendly
The NCD interface is ideal for those who have limited understanding of what to do when the fire alarm activates. "If you can navigate any windows-based touch screen device, you'll find the panel very easy to navigate as it offers prompts and commands to guide you through," explains Rick T., Director of Sales, Fire Systems, Inc.
The intuitive functionality of the panel also gives users more confidence to manage and understand an emergency situation.
Users can quickly and accurately respond to events without the distraction of confusing hard key buttons and cryptic messages. Along with customizable, guided instructional text, the NCD is simple-to-use with built-in features that include:
Dedicated sections of the display for the menu, control and active events
Color coded detailed event list and event counters
Prioritized events in the header bar
Scrolling functionality and event vectoring
Easier to inspect
Before touch screen, fire alarm panels were difficult to use unless you were very familiar with the system and how it operated. With the new NCD, all fire alarms are easy to identify and acknowledge.  It's easier than ever when technicians have the authority through a password when disabling points for maintenance and testing. 
"I think the main thing is that it allows for more information to be displayed," explains Adam W., Fire Alarm Division Manager at Fire Systems, Inc. "This helps us to identify the alarms we have activated and verify the descriptions programmed into the system are as accurate as they can be.  Doing this makes the system more effective at alerting to a fire as well as directing the fire department to the cause of an alarm."
Fire Systems, a proud vendor of Notifier
Fire Systems, Inc. is a proud distributor of Notifier products. Our technicians attend annual factory training from Notifier which means our technicians are knowledgeable in the most technologically advanced fire alarm systems.
To showcase Notifier's new NCD, Fire Systems built a prototype and showcased it at this year's BOMA show in Atlanta.
Fire Systems, Inc. can install, inspect, and repair your fire alarm system. We also offer fire alarm monitoring. Call us today at 770-333-7979 or visit our website for more information.